Road To Juarez – Adal Ramones / Charley Koontz / William Forsythe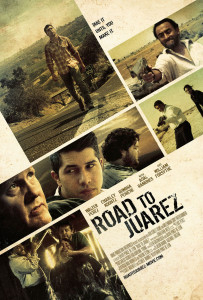 Road To Juarez / Doug, Rob, Blanca and Jacob having dinner with Mirella and Fito they begin to get to know each other. In other room Ivan and Ingor planning a kidnapping. Hortensia volunteers to watch over Blanca.
Movie Scene Cast: William Forsythe as Doug Hermann / Charley Koontz as Rob Hermann / Adal Ramones as Ivan / Pedro Pano as Igor / Joshua Ponce de Leon as Fito / Hillary Chavarria as Blanca / Yareli Arizmendi as Hortensia / Romy Peniche as Mirella
Visit Movie Homepage: http://RoadToJuarez-Movie.com Don't forget to S-U-B-S-C-R-I-B-E to FlixLinked's YouTube Channel.
Support Indie Filmmakers http://FlixLinked.com An American ex-con with Mexican underworld ties ensnares a pair of young misfits into a dangerous heist in Mexico. Inspired by true events.