The Killing of a Sacred Deer (2017) – Trailer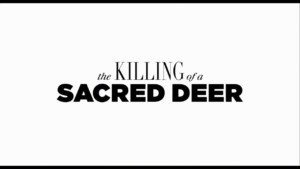 Dr. Steven Murphy is a renowned cardiovascular surgeon who presides over a spotless household with his wife and two children. Lurking at the margins of his idyllic suburban existence is Martin, a fatherless teen who insinuates himself into the doctor's life in gradually unsettling ways. Soon, the full scope of Martin's intent becomes menacingly clear when he confronts Steven with a long-forgotten transgression that will shatter his domestic bliss forever.
From writer/director Yorgos Lanthimos and starring Colin Farrell, Nicole Kidman, Barry Keoghan, and Alicia Silverstone. The Killing of a Sacred Deer – Now available for rent or purchase (links below).
RELEASE DATE: 11/3/2017
DIRECTOR: Yorgos Lanthimos
CAST: Colin Farrell, Nicole Kidman, Barry Keoghan, and Alicia Silverstone