The Twilight Zone: "The Comedian"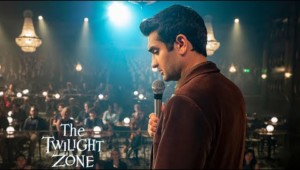 Comedian Samir Wassan (Kumail Nanjiani) wants to be famous … but at what cost? About The Twilight Zone: Hosted by Academy Award-winner Jordan Peele, witness the re-imagining of the original series, which premiered in 1959. The godfather of sci-fi series, the show explores humanity's hopes, despairs, prides and prejudices in metaphoric ways conventional dramas cannot.
New episodes of the anthology series will be available on demand weekly on Thursdays beginning April 11, exclusively for CBS All Access subscribers.